Charter Fishing Trips
Tilghman Island Marina hosts several Charter Fishing Boats and we are knowledgeable of many others in the area. If you are interested in taking a Charter Fishing trip, call 410-886-2500 during normal business hours and we'll happily provide you with the contact information for Charter Boats that fit your needs.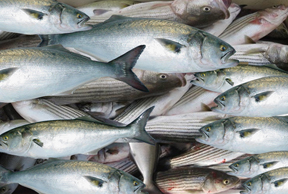 This could be your pile of Stripers & Blues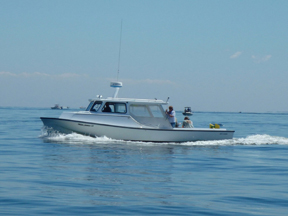 Book your trip today aboard the Miss James II
Captain Jerry & 1st Mate Teresa
Call 443-617-9045
www.MissJamesCharters.com
How Fishing Charters In This Area Work
Charter Fishing Boats in this area are typically in the 30' to 60' range. Most charge between $500 to $1,200 for a full day of fishing with the majority being captained by the owner. For the most part, the main difference between Charter Boats is the condition of the boat, the boat's electronics, the fishing equipment and most importantly the skill of the Captain and his mate (when used). The top Captains are capable of getting you the most and biggest fish throughout the entire fishing season. The mate's job is to assist the Captain and customers in any way possible. This includes setting up fishing poles, baiting lines, getting fish into the boat, cleaning fish and assisting the Captain with boat docking. It's common for Charter Boats in this area to fish without a mate so the Captain also performs those duties.
Charter Boats typically require advance reservations for either half or full day trips. All fishing gear, bait, tackle, ice, fish cleaning and packaging for your ride home are generally included in the price of your trip. Most boats accommodate up to 6 people however there are some that can take much larger groups, even as many as 20 or more. Harrison House Charter Fishing is one of your best options in this area for accommodating large groups; they can be reached at 410-886-2121.
Single individuals that wish to fish aboard a Charter Boat are somewhat limited. One option would be to pay the entire cost of the Charter Boat yourself but that may be cost prohibitive. Another possibility is to try locating a boat captain that is willing to add you to a fishing party which means that you'll end up meeting some new fishing buddies.
FYI - Regarding the boat's mate: Most are not paid wages; they rely heavily on tips which can range from $100-$250 for a full day of hard fishing. When there is no mate, it is customary to tip the Captain for performing mate duties.
Rent A Fishing Boat
Also located at Tilghman Island Marina are a fleet of recreational rental boats, some specifically configured for fishing. For those with minimal boating experience, do not be intimidated. Over our many years of operation we've had plenty of customers that have successfully enjoyed their time on the water after receiving our free "Rental Boat Orientation". Not only will you learn the basic boating skills necessary to safely boat but you will also learn how to read charts. Additionally it helps to know that our entry level boats are easy to operate and boating traffic in this area is minimal with lots of wide open spaces making it a perfect environment for beginners with some experience.
Also, we are authorized by the state of Maryland to issue anyone born after July 1, 1972 a temporary Maryland Boating Safety Certificate and our rental boats include a Chesapeake Bay Sport Fishing License.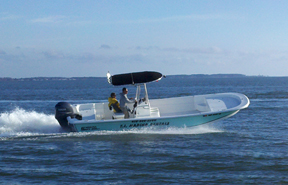 Do It Yourself !!!
That's right ... Rent a Fishing Boat
with Fishing Gear and catch your own.
Captain Ron will chart you a few local Hot Spots.
How Fishing Boat Rentals Work
Our fishing Rental Boats range in sizes from 19' to 25'. In addition to the normal safety gear that comes with each boat, they are also equipped with a fish finder, fishing rod holders and a Chesapeake Bay Fishing/Crabbing Boat License which covers everyone onboard. Though somewhat smaller than the average Charter Boat, our boats are perfect for fishing Bay tributaries. Using one to fish big waters where Charter Boats fish is also possible but only on calm sea days. For the most part, even if you can safely operate in the area where Charter Boats are fishing, most individuals do not have the expertise or equipment to fish in that environment. As such the majority of our Rental Boats spend their fishing time in the more sheltered waters of our local tributaries. Though fish are somewhat smaller there, catch numbers are usually greater.
A Word of Caution
If you do find yourself fishing near Charter Boats, be mindful of staying out of their way. Do not cross their paths as they may have lines in the water and do not expect a conversation as they are trying to focus on their job of getting fish for their paying customers.
The bottom line is, ... stay as far away from all
Charter Fishing Boats as possible.