WaveRunner Details


We use Yamaha XL700 WaveRunners.

Our impeccably maintained Yamaha XL700 WaveRunners are known for their reliability, performance and operational simplicity. They will comfortably accommodate 2 adults or 1 adult and 2 small children. There is ample storage for your lunch, drinks, towels and camera.

1 and 2 hour rentals are restricted to a 20+ square mile territory which is essentially the entire west side of Tilghman Island. And on days where the Chesapeake Bay is calm enough, the 2 hour rentals can extend their territory to include Sharps Island Lighthouse which is about 3 miles SSW of Tilghman Island's southern tip.

Rentals of 4 hours or more are provided extra equipment with includes a handheld marine band VHF radio, local waters chart, reserve gas and additional safety instructions which allow operation over a much larger territory. It's typical for those renters to ride to Oxford for lunch at one of the waterside restaurants as well as explore Harris and Broad Creeks or maybe even enjoy a swim from one of the many remote beaches.

Regardless of your experience level, we are required by Maryland's Department of Natural Resources (DNR) to certify all operators. In order to achieve that goal all PWC operators will watch a short safety video, read a few pages of safety information, pass a 13 question safety quiz and participate in the hands-on orientation.

Maryland DNR also requires all PWC operators be at least 16 years of age however passengers can be as young as 4 provided they weigh at least 50 pounds in order to wear a life jacket that is Coast Guard approved for PWC use.

FYI - Even if you have previously completed an approved boating safety course or been certified at another rental facility, Maryland's DNR requires all rental facilities to certify all operators on the day of the rental. In other words, all operators must be certified by us when renting from us.

Below are a few links that may be of interest.
Here for DNR Vessel Requirements
Here for 13 Question Safety Quiz
Here for Maryland PWC Regs PDF
Here for Maryland's PWC Regs
Specs:
> 10' Yamaha XL700
> 85 HP Engine
> Approx. 45 MPH
> Total Weight Capacity - under 400 pounds
> 2 Person Capacity - no more than 400 pds
> 3 Person Capacity - 1 adult and 1 or 2 kids
> 3 Storage Compartments
Note: Children passengers can be as young
as 4 provided they weigh at least 50 pounds.

Rentals By The:
> 1 Hour, 2 Hour, 4 Hour, Day

Things To Bring:
> Bathing Suit
> Change of Clothes
> Towel
> Sun Glasses
> Sun Block or Sun Screen Lotion
> Camera - (we provide zip-lock baggie)
> Cell Phone - (we provide zip-lock baggie)
> Soap & Shampoo if Showering Afterwards
Suggestion:
It is very helpful to have your cell phone
loaded with a GPS App that you are familiar
with using to make navigation more certain.
Onsite bathrooms with
showers & changing area
Life Jackets Must Be
Worn At All Times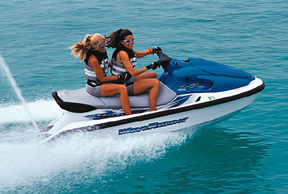 Very comfortable ride for 2 adults.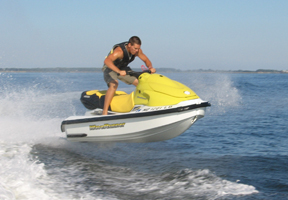 My Man Steven catching some air.
Semper Fi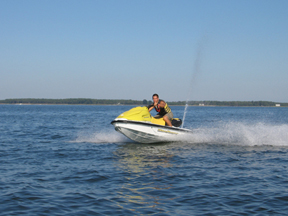 Top speed is almost 50mph.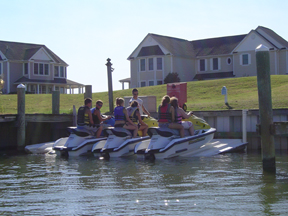 Prepping group for launch.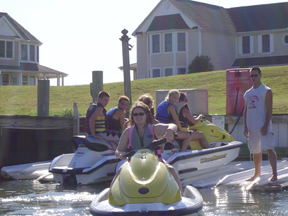 Pretty face underway in happy mode.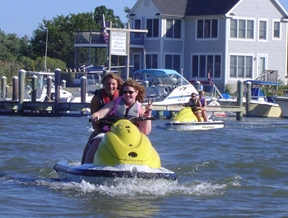 Happy faces headed to Bay.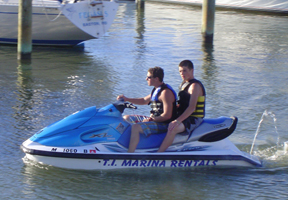 I'm so happy I could just cry!
Click any picture to enlarge