About Our Tours
All waterway tours are by advance reservations only with a maximum of 6 people per group. We offer 3 different preset tours to choose from, each providing exceptional sights and points of interest. The Tilghman Island Circumnavigation Tour requires about 1 hour whereas the other 2 require about 3 hours of on-the-water time. Of course we can truncate trips at any time should the need arise.

Tours take place on one of several tour boats, depending on boat availability, the tour chosen and customer needs. All trips are weather dependent which includes not only precipitation issues but also sea conditions and high winds as all tour boats are open and suitable for use on good days only. Typically June through September are the best months for pristine conditions. Tour Boat pictures are posted to the right.

All tours provide continual views of wildlife, natural habitat, extraordinary architecture, historic mansions, vacation cottages, quaint coves and too many other points of interest to list.

In addition to our preset tours, we have also supported a variety of personal and specific customer needs including, the scattering of ashes at sea, wedding party boat rides, waterfront real-estate viewing, chauffeur/taxi service and even requests for boat rides to nowhere. The bottom line is that a captained tour is a great way to explore the area without the hassle of driving yourself.
FYI - Rest assured that you are in good hands with Captain Ron as your guide. He is a US Coast Guard licensed captain who has spent his entire life boating and served in the Coast Guard from 1974 thru 1978, the majority of time at CG Station Atlantic City NJ performing search and rescue in the ocean, bays and intercostal waterways.
Tilghman Island Circumnavigation
Our shortest tour takes us around the perimeter of Tilghman Island providing extraordinary views of our Island communities, diverse architecture, wildlife habitat and waterman at work. After departing the marina we'll follow the west side channel markers to the deeper waters of the Chesapeake Bay. Once far enough offshore we'll head south paralleling and hugging the shoreline of Tilghman Island with architectural sights on the left and Bay views on the right. As we round Tilghman's southern tip we'll transition from the Bay into the mouth of the Choptank River where a turn north takes us past Blackwalnut Cove, a natural habitat for Bald Eagles and other birdlife native to our area. From there we'll skirt the entrance to Dogwood Harbor, homeport to several well-known Skipjacks and finally meet up with the east side entry to Knapps Narrows Channel guiding us under the drawbridge and back to Tilghman Island Marina.
Lighthouses & Poplar Islands
This is our most popular 3 hour preset tour which includes getting up close and personal with 2 lighthouses, a run through The Poplar Islands Harbor and some Harris Creek sightseeing. Once underway we'll follow our west side channel markers to the deeper waters of the Chesapeake Bay where a course change takes us towards the Poplar Islands which are about 2 miles northwest. As we pass by the harbor, Poplar Island and Jefferson Island will be on our left. From there we'll continue on a northwest course for about 5 miles to Bloody Point Lighthouse at which point we'll turn south for Sharps Island Lighthouse, about 12 miles away. Our final leg takes us northeast into the mouth of the Choptank River, then up Harris Creek and back to Tilghman Island Marina via the east entry to Knapps Narrows Channel which means we'll be going under the drawbridge.
Oxford & Tred Avon River
Our other 3 hour preset tour option includes a visit to Oxford's Town Creek and the Tred Avon River where we'll see an abundance of historic waterfront mansions that line the shoreline of Oxford which is considered one of Maryland's oldest towns. After exiting the east side of Knapps Narrows Channel we'll head east for about 8 miles to the Choptank River Light, then turn north for about 3 miles passing by the well-known Oxford/Bellevue Ferry with Oxford's Town Creek entry just a few minutes away. Once inside we'll circle the sedate harbor which is clustered with marinas, restaurants and private homes. At this point we can dock at The Scottish Highland Creamery for some of the most spectacular homemade ice cream and fudge if desired. We'll then head back out onto the Tred Avon River for a 6 mile ride with some of the most extraordinary properties you'll ever see lining the shoreline. On the return leg we can poke into the mouth of Broad Creek and Harris Creek if time allows.

Things To Bring:
> Lunch, Snacks & Drinks
> Sun Glasses
> Sun Block or Sun Screen Lotion
> Camera
> Cell Phone
> Loaner Coolers Available

Below are a few links that may be of interest.

Here for Poplar Island Info

Here for Sharps Lighthouse Info

Here for Bloody Pt Lighthouse Info

Here for Oxford Info
Our Tour Boats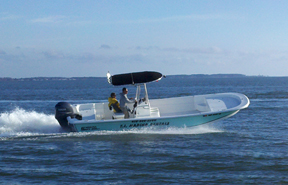 25' Center Console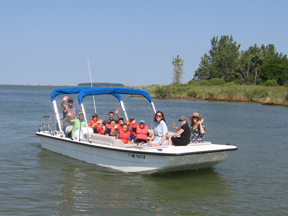 21' Pontoon Boat
Click any picture to enlarge