Details

This course is perfect for those who have already attended classroom instruction but feel the need for actual hands-on training. Perhaps you have never been behind the wheel or maybe it's been decades since. You may even own a boat but need coaching to learn how to dock with finesse. Others may wish to bring several family members to participate in the Private Lesson so that the whole family can learn together. When instructing families, each member gets practice time at the helm.

Although there are endless docking situations one can encounter during a normal day of boating, our hands-on attempts to address as many of these as possible. Pulling into a boat slip, docking to a fixed pier, docking to a floating dock, docking to a T-head and maneuvering in tight spots are all practiced. Underway includes applying the rules of the road, chart navigation, shallow water operation, anchoring/retrieval and approaching a beach. Of course there are a number of additional topics covered as well as any specific needs you may have.

So if you are considering a boat purchase, a boat rental, need to improve your docking skills or just want to refresh your boating/seamanship knowledge, let Captain Ron customize a hands-on course for you.

We are authorized by the state of Maryland to issue anyone born after July 1, 1972 a temporary Maryland Boating Safety Certificate. There is no charge for this service.

FYI - Rest assured that you are in good hands with Captain Ron as your instructor. He is a US Coast Guard licensed captain who has spent his entire life boating and served in the Coast Guard from 1974 thru 1978, the majority of time at CG Station Atlantic City NJ performing search and rescue in the ocean, bays and intercostal waterways. Lessons are by appointment only.

Below are a few links that may be of interest.
Here for DNR Rental Vessels Safety Information PDF
Here for BoatUS Free online Maryland Boating Safety Course
Here for Local Area Chart PDF
Specs:
> Personal Instruction
> Family Instruction
> Small Group Instruction
> 2 or 4 Hour Sessions
Potential Topics Covered During Course:
> Discuss Reading Materials
> Introduction to Basic Boating Safety
> Operation of Essential Equipment
> Rules of the Road
> Underway Operation
> Lines, Knots and Boat Tie-up
> Weather
> Breakdown and Distress Issues
Things To Bring:
> Note Pad
> Sun Glasses
> Sun Block or Sun Screen Lotion
> Camera
> Cell Phone
Reading Materials Will Be
Provided Upon Arrival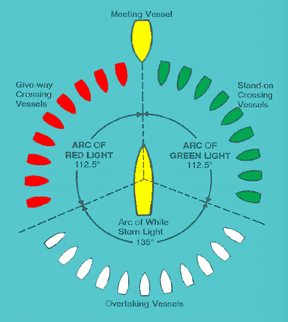 3 possible vessel meeting situations
Click picture to enlarge
Call 410-886-2500 for Pricing and Reservations
6140 Mariners Court, Tilghman Island, MD 21671 - www.TilghmanMarina.com
We Require Safe, Responsible and Respectful Boating at All Times