Rental Boat #2 - Details
This is by far our most luxurious rental boat and for that reason she is not rented to anyone for fishing or crabbing. The 150hp Honda 4-Stroke outboard motor provides a top end of about 40mph with 2 people onboard. She'll still do well over 30mph even with a full load of 13 people. As with most 4-stroke motors, she is quiet running, clean burning and fuel efficient while being easy to operate, extremely stable, smooth riding and shallow draft.

This is a custom built luxury liner designed to accommodate large groups, families and couples who want comfort for their day on the water. She was built to replace our pontoon boats which were found to be inferior for operating on the Chesapeake Bay. Not only is she significantly faster but also far more stable and seaworthy. The design goal was to provide the shallow draft and seaworthiness of a Carolina Skiff with the ease of operation and comfort of a pontoon boat ... she has far exceeded all expectations and continually complimented by renters.

This boat is perfect for folks with a reasonable amount of boating experience that wish to spend the day exploring, sightseeing, picnicking, sun-lounging, swimming or visiting a waterfront restaurant for lunch or dinner in comfort. She is fast enough to explore distant locations like Kent Island, Wye River or the Little Choptank River as well as all local areas like St. Michaels, Oxford and Kent Narrows.

Rentals By The:
> Half-day, Full-day, Week, Month.

Long-term Rentals & Delivery Info:
This boat is normally docked in a boat slip at the Tilghman Island Marina. All rentals will depart from this location and return to the same location at the end of the rental period. If having the boat delivered, she will be brought to your waterfront location via water.

All Operators Must:
> Have a boating license or suitable experience
which means that you have lots of prior boating experience operating boats of similar size and horsepower
> Read the Maryland state boating safety document that we provide
> Read our orientation materials
> Participate in the onboard orientation/checkout procedure

Below are a few links that may be of interest.

Here for BoatUS Free online Maryland Boating Safety Course

Here for DNR Rental Vessels Safety Information PDF

Here to visit Maryland's online Fishing Guide

Here for BoatUS Chart Reading Introduction

Here for Aids to Navigation Video #1

Here for Aids to Navigation Video #2

Here for Local Area Bay Chart PDF
Rental Boat #2 General Specs:
> Length - about 23'
> Draft - about 28" with motor down, about 10" up
> 150HP 4-Stroke Honda outboard motor
> Electric start
> Power tilt & trim
> 13 Person capacity or 2,775 pounds
> Top speed is about 40mph (2 people onboard)
> 30 Gallon gas tank

NOTE: Although the boat's capacity plate specifies a capacity of 18 people, the US Coast Guard limits rental boats to no more than 13 people total, regardless of the capacity plate's specification.

Equipped With:
> VHF Marine Radio
> Depth Sounder
> Compass
> Fore bimini top - covers front seating area
> Aft bimini top - covers rear seating area
> All required Boating Safety Equip
> Typical boating gear: i.e., anchor, dock lines,
paddle, boat hook, etc.
> Local area navigation chart
> Chesapeake Bay waters chart book
> Built-in swim ladder
> Loaner coolers are available
Things To Bring:
> Bathing Suit
> Change of Clothes
> Towel
> Sun Glasses
> Sun Block or Sun Screen Lotion
> Camera
> Cell Phone
> Soap & Shampoo if Showering Afterwards
Suggestion: It is very helpful to have a
cell phone loaded with a GPS App that you
are familiar with using to make navigation
more certain.
We offer use of our
onsite bathrooms with
showers & changing area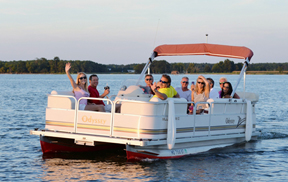 This was our last 21' Pontoon Boat. Notice how low in the water she rode ... not very good for safety, stability or seaworthiness.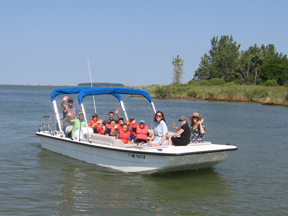 This is our new custom built SkiffToon. Notice how high in the water she rides with a similar passenger load ... much safer, far more
stable and seaworthy.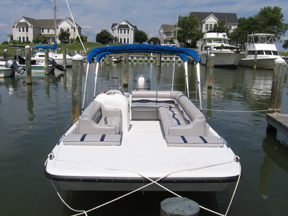 Bow View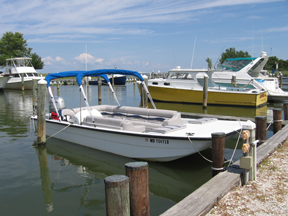 Starboard Side View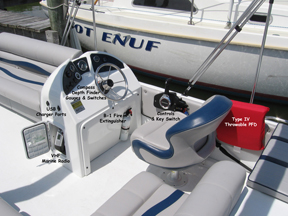 View of Helm Area

Click any picture to enlarge