Kayak Details


We use only Ocean Kayak Malibu II & Malibu II XL's
.
They are the oldest and largest manufacturer of sit-on-top kayaks in the country. Their products are ultra-stable, unsinkable, self-bailing, wide and built with molded cockpits that maintain the paddler's low center of gravity ensuring stability.

We equip each paddler position with a padded seat and supportive backrest with a built in storage pouch to help make your outing more comfortable. Our life vests (PFDs) and paddles are top of the line, best in quality.

Tilghman Island area offers 10 official Kayak Water Trails with skill levels of Beginner, Intermediate and Experienced.

Beginners are provided personal instruction which will have them kayaking like an expert within minutes of being launched. Throughout our many years of renting kayaks, we have had literally thousands of rental customers, most of which were beginners. These were comprised of all age groups ranging from toddlers to grandparents. So if you are apprehensive about trying this sport, relax and go for it. This is not an extreme sport; it is a leisurely outdoor activity requiring very little skill that most folks easily acquire, even before exiting the safety of the marina basin.

After life jacket fitting and trail map briefing, you will be launched from our floating docks. Just sit back and relax as you are slid into the water.

Once in the water, beginners may first practice within the safety of the Marina's basin before venturing into the Back Creek Kayaking Water Trail. The trail is just a few paddle strokes away from the Marina's main entrance and only a few feet deep; perfect for small paddle craft like Kayaks and Canoes and without intimidating powerboat traffic.

Once inside the Back Creek Water Trail, you'll have a little over 2 miles of sheltered waterway which typically offers views of turtles, fox, deer, beaver and otter not to mention a variety of bird life including Osprey, Bald Eagles, Blue Huron, Egrets, Red Tail Hawks, ducks and geese.

For those who desire a little more time on the water, we recommend packing a picnic lunch and planning a swim as there are several beaches available for your enjoyment. As such, a 4 hour rental may be more appropriate.

Below are a few links that may be of interest.
Here for Ocean Kayak intro video


Here for Beginner Safety Rules Video
Here for Kayaking With Kids Video 1
Here for Kayaking With Kids Video 2


Here for Kayak Reentry Video
Specs:
> Malibu II - 12' Long, 34" Wide
> Malibu II Max Load Capacity = 400 lbs
> Malibu II XL - 13' Long, 34" Wide
> Malibu II XL Max Load Capacity = 400 lbs
> 1, 2 or 3 Person Capacity
> 1 or 2 Floatable Featherweight Paddles
> 1 Life Jacket per person - Must be worn
> Padded Seats
> Supportive Backrests
> Storage Pouch in Seat Backs
> Trail Map
> Loaner Coolers Available
> Loaner Sun Screen
Rentals By The:
> 2 Hour, 4 Hour, Day, Weekend, Week.
Things To Bring:
> Bathing Suit
> Change of Clothes
> Towel
> Sun Glasses
> Sun Block or Sun Screen Lotion
> Camera - (we provide zip-lock baggie)
> Cell Phone - (we provide zip-lock baggie)
> Soap & Shampoo if Showering Afterwards
Suggestion:
For those doing more than the Back Creek
Water Trail, it is very helpful to have your
cell phone loaded with a GPS App that you
are familiar with using to make navigation
more certain.
We offer use of our
onsite bathrooms with
showers & changing area
Life Jackets Must Be
Worn At All Times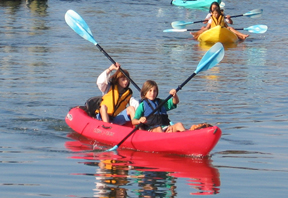 Returning From Water Trails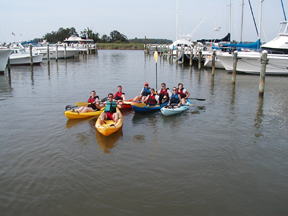 Corporate Group Pose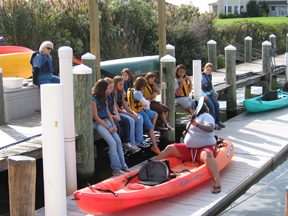 Tilghman School Kids Instruction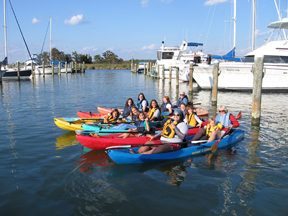 Tilghman Kids Looking Good!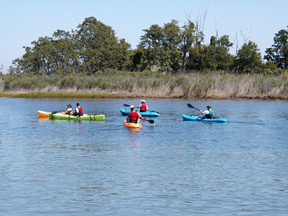 Kayakers Heading to Water Trails
Click any picture to enlarge