Offering Fishing Gear for use on the Chesapeake Bay and Local Inland Waters
to Residents, Visitors, Tourists & Vacation Home renters that are in the
St. Michaels, Oxford, Easton, Cambridge and Kent Island areas
Details


Choose your equipment.

You have a choice between Boat Fishing or Surf Fishing Gear. For the most part, our Surf Fishing Gear provides equipment that is somewhat heavier than the Boat Fishing Gear. Surf Poles are several feet longer, fishing line is thicker and the tackle box includes hooks, lures and sinkers that are larger in size. Boat Poles are shorter making them more manageable on a boat and the tackle box is packed with smaller hooks, lures and sinkers that are more appropriate for the waters our renters typically fish in.


Best places to fish from a boat.

The best places for fishing from one of our Rental Boats is usually in the nearby rivers, creeks or in close proximity to the Chesapeake Bay shoreline (within a mile or so). Typical good water depths are in the 15 to 30 foot range. Not far from the marina is Harris Creek and Broad Creek, both offering an abundance of sheltered coves and offshoots that provide a perfect venue for fishing. There are several locations within each that have proven to be Hot Spots. Some are better for drift fishing while others are better for anchored bottom fishing. And we've had hundreds of success stories told by our customers over the years with a number of families claiming to have had their most successful fishing day ever.


Best places to fish from the shore.

Surf fishermen will find the best location in this area at the southern end of Tilghman Island which is known as Black Walnut Point. Its rocky shoreline parallels the Chesapeake Bay for about 1/4 mile with a wide public parking area that allows fishing from the trunk of your car. It's common to see folks catch large Rockfish, Bluefish, Croakers and other fish species common to our local waters. So if fishing from a boat is not possible, try your luck with surf fishing.

Below are a few links that may be of interest.
Here for Fishing License Info
Here for Online Fishing Guide
Specs:

> 1 Fishing Pole
> 1 Tackle Box filled with Gear
> 1 Bait Cutting Board
> 1 Bucket
> Coolers Available
> Discounted with Boat Rental


Rentals By The:

> Day, Weekend, Week.


Things To Bring:

> Bait - Soft shell crabs or worms are best
> Sun Glasses
> Sun Block or Sun Screen Lotion
> Camera
> Cell Phone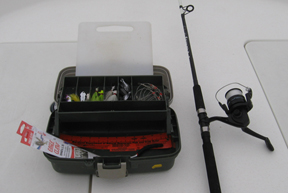 Tackle box includes a variety of gear.
Call 410-886-2500 for Pricing and Reservations
6140 Mariners Court, Tilghman Island, MD 21671 - www.TilghmanMarina.com
We Require Safe, Responsible and Respectful Boating at All Times