Details

Although the canoe gets some use throughout the summer, it's most active during early spring and late fall.

My personal preference is to canoe on a bright sunny February afternoon, just after the ice thaws. That's the perfect time of year to explore Back Creek Water Trail which is just a short paddle from the Marina's entrance.

You'll need to bundle up but the effort is worth it. Not another soul around, the foliage is sparse and winter wildlife different from what is typically seen during summer months.

Most fall months are equally attractive but for different reasons. That's the time of year to witness the changing of colors and bird migration; it's an awesome sight.

After being fitted with your life jacket the trail which is visible from our boat docks will be visually pointed out and discussed. This allows you to see exactly where you're headed by comparing to the trail map. You will then be launched from our floating dock-ramps. Just sit back and relax as you are slid into the water with little effort on your part.

Once in the water, beginners may first practice within the safety of the Marina's basin before venturing into the Back Creek Water Trail. The trail is just a few paddle strokes away from the Marina's main entrance and only a few feet deep; perfect for small paddle craft like Canoes, Kayaks and Stand-up Paddle Boards.

Once inside the Back Creek Water Trail, you'll have a little over 2 miles of sheltered waters. At a leisurely pace a 2 hour rental will provide ample time to view an extraordinary variety of wildlife including turtles, deer and Otter as well as a variety of birds including Osprey, Bald Eagles, Blue Huron, Egrets, Red Tail Hawks and more.

For those who desire additional time during summer months, we recommend packing a picnic lunch and wearing your swim suit as there are several beaches available for your enjoyment. As such, a 4 hour rental may be more appropriate.
Specs:
> 15' 8" Long
> 35" Wide
> Weighs 87 Pounds
> Max Load Capacity = 500 lbs
> 1, 2 or 2.5 Person (small child) Capacity
> Construction Material = Polyethylene
> 2 Floating Paddles
> 2 Type IV Throwable Seat Cushions
> 1 Life Jacket per person - Must be worn
> Loaner Coolers Available
> Loaner Sun Screen
Rentals By The:
> 2 hour, 4 hour, Day, Weekend, Week.
Things To Bring:
> Bathing Suit
> Change of Clothes
> Towel
> Sun Glasses
> Sun Block or Sun Screen Lotion
> Camera - (we provide zip-lock baggie)
> Cell Phone - (we provide zip-lock baggie)
> Soap & Shampoo if Showering Afterwards
Onsite bathrooms with
showers & changing area
Life Jackets Must Be
Worn At All Times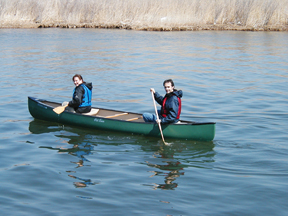 Its late fall - wearing jackets & smiles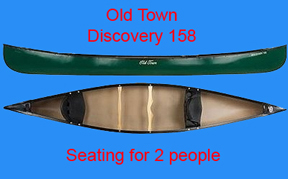 Room for gear in the middle
Click any picture to enlarge
Call 410-886-2500 for Pricing and Reservations
6140 Mariners Court, Tilghman Island, MD 21671 - www.TilghmanMarina.com
We Require Safe, Responsible and Respectful Boating at All Times